Here is an innovation strategy your organization can use to protect breakthrough opportunities and mess with competitors
Companies constantly seek, for themselves, ideas for next-generation products and services but often stop short of seeking ideas of interest to their competitors.
Why not seek ideas your competition and future industry disrupters are likely to develop, for their next-generation products, and wreck their futures by patenting them yourself? A good offense is a great defense, right?
Said differently, why not organize your idea harvesting efforts into anticipating all of your industries' next moves and patent everything? Throw some ink in the water. This is also an important first step if your planning to go into the tech community to working with entrepreneurs and startups. After all, if you don't own the intellectual property (IP) around the idea, you won't own the product IP and if you don't own the product IP, it's likely those you work with will eventually do business with your competitors giving them access.
Here is a technique I have developed to capture breakthrough ideas which I combine with a bootstrap patenting approach to protect lots of ideas on a shoestring budget.
The Process
+ Conduct a patent and macro-trend study of an industry or technology. I start by developing an understanding of how an industry has evolved. Organized into a storyboard along a timeline, seminal patents inform how innovation has evolved. I then link macro-trends that have and are shaping the industry/consumer behaviors to forecast what is likely next. It works great!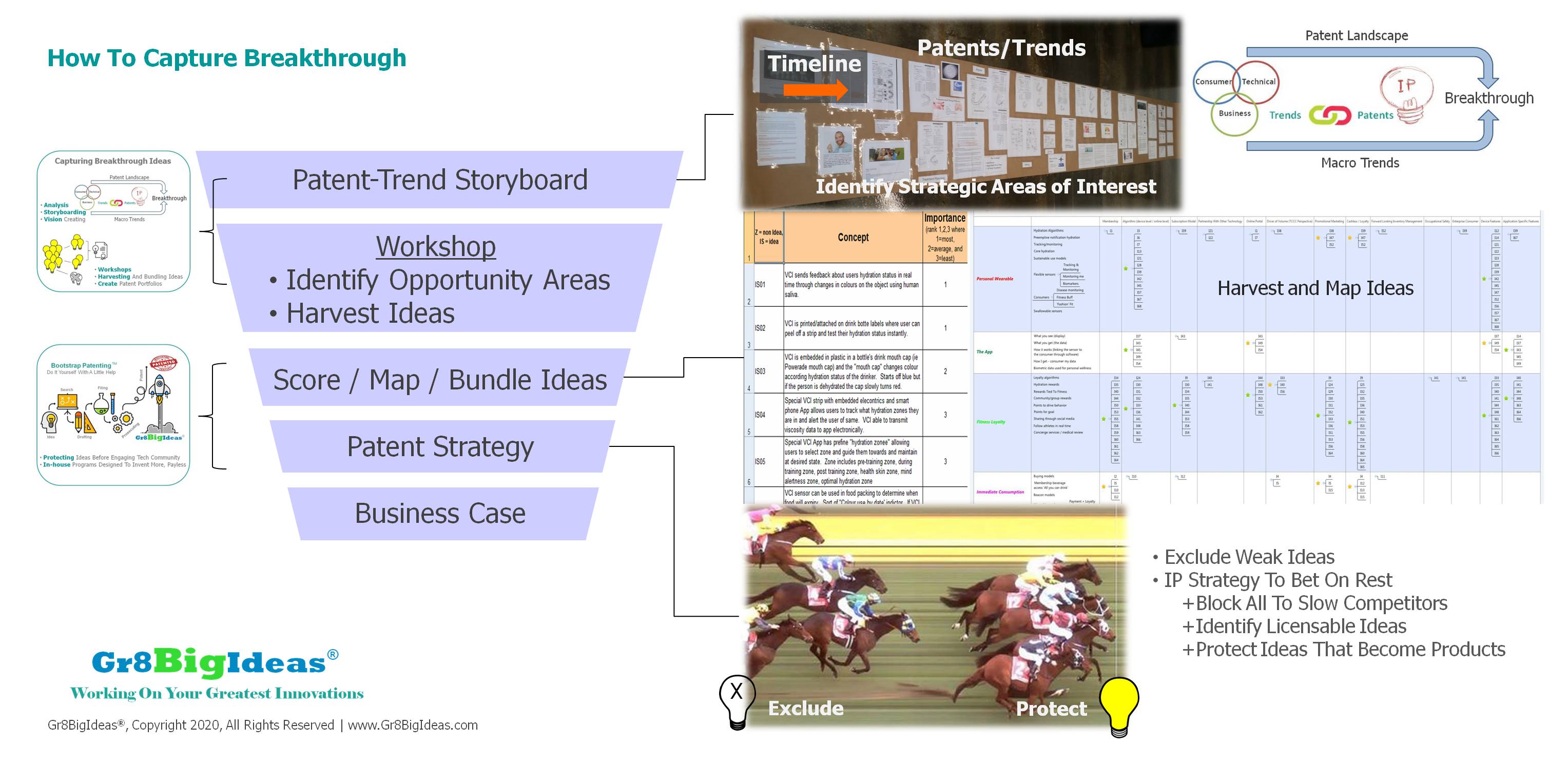 + Idea harvesting workshops identify technical areas of opportunity and dive deep to generate lists of ideas and business models.
+ Converting the raw ideas into an idea map highlights where bundles of patentable ideas exist within the space.
+ Bootstrap patenting techniques are used to exclude weak ideas, bundle strong ideas, and patent protect as many ideas as possible to block competitors, create patent portfolios for licensing, and protect products that you elect to develop. For external innovation in the tech community, ideas are protected before engaging with entrepreneurs and startups to prevent giving ideas away. This patent strategy is discussed further in the video.
Ways we can help you:
Drafting, filing, and prosecuting patent applications
Embedding with innovation teams to harvest, refine, and protect ideas
Identifying patentable ideas within startup technologies
Landscaping markets to identify new opportunities
Developing patent strategies for products and startup
Managing the patent creation process from concept to product launch
Searching ideas for prior art patents
Reviewing prior art patents with product development teams
Building IP for VC/PE portfolio companies
#patents #patentengineering #startups #entrepreneurs #breakthrough #intellectualproperty #corporateinnovation #innovation