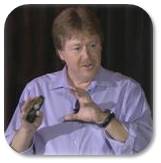 I am a serial entrepreneur and innovator who helps companies develop market-changing technology by identifying and capturing intellectual property around breakthrough innovation.
I have startup experience raising more than $120 million in funding and a successful exit on NASDAQ. In my startup, I invented a wireless cashless payment technology that is widely used today. I then became a member of Coca-Cola R&D. At Coke, I led a team of innovators in the design of cold drink equipment. One such innovation was the Coca-Cola Freestyle dispenser. After Freestyle, I successfully grew Coca-Cola's open innovation program. The program scouted for technologies to meet Coke's business needs worldwide.
Having experience from both the startup and corporate perspective, I know firsthand how challenging it is to get breakthrough innovations out of the lab and into the marketplace at a meaningful big company scale, quickly. To address this challenge I founded Gr8BigIdeas to partner with companies seeking to innovate in the technical community and created  TechConnectHub.com an open innovation community. A focus has been growing the open innovation community and engaging with corporate partners to connect innovation needs with technical community solutions. In these endeavors, I have developed innovative tools and methods to bridge the gap between corporates and startups in completely new ways.
I also understand well the role of patents in open innovation environments. I am a registered US Patent Agent with more than 20 years of patent experience and a prolific inventor with more than 95 patents. Here is a list of my US patents.